First look at Takeaway 2017!
Undercover is back, with TV chef Jamie Oliver at the mercy of Ant & Dec's hidden camera antics!
With Jamie conducting a day of press at his new restaurant in Harrogate, Ant and Dec run riot behind the scenes, including photo bombing a staff picture by wielding 'We Love Turkey Twizzlers' signs - a sure fire way to rile healthy eating advocate Jamie!
Fresh from winning 'Best Entertainment Programme' at the National Television Awards 2017, Ant & Dec triumphantly return with a brand new series of 'Ant & Dec's Saturday Night Takeaway'.

Saturday night's FEEL GOOD show is back, promising even more live surprises, stunts and hidden camera antics - with big name guests, an exciting new comedy serial and a jet set series finale which will be a British television first.

Hot on the heels of last year's "Who Shot Simon Cowell?" (the spoof mystery that kept the nation guessing) comes "The Missing Crown Jewels", which sees the royal regalia stolen by a mysterious masked villain on Ant & Dec's watch. Emilia Fox returns to investigate, while Joanna Lumley, Michael Sheen and Dame Shirley Bassey amongst others help Ant and Dec to recover the jewels.

After 2016's cruise ship spectacular live from Barcelona, Ant & Dec will make British TV history by jetting up to 200 viewers overseas for their biggest series finale yet. The whole nation will be in with a chance of winning this once in a lifetime trip.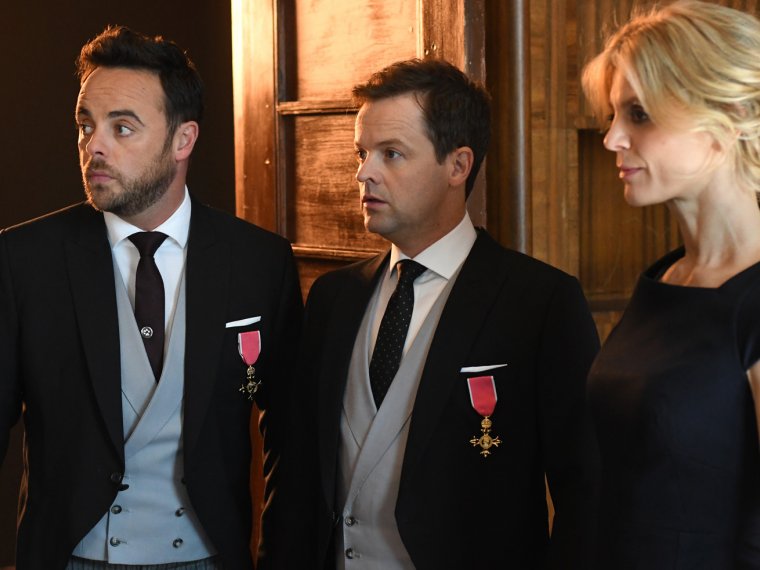 In a brand new item "Make 'Em Laugh" Phillip Schofield and Holly Willoughby will go head to head with Ant & Dec. The rules are simple - they have to make each other laugh using costumes, props and their imaginations. You laugh, you lose.

Stephen Mulhern once again presides over the drama of "Ant vs Dec", which this time sees the duo face off in a series of themed head to heads. Stephen is also unleashed on the streets of Britain for a new pop-up game show - "In for A Penny". Anyone who has a one pence piece can enter and be in with a chance of winning a wedge of cash.

This year the Saturday Night Takeaway family welcomes a new addition in the shape of 'Queen of the Jungle' Scarlett Moffatt. She'll make her spectacular debut by surprising members of the public in an electrifying live stunt that could see her reach new heights - quite literally. Scarlett will also be entertaining the lucky winners of each week's "Best Seats in the House" - where viewers around the country win VIP studio seats by finding one of four secret sofas placed in mystery locations across the UK.

Once again, top names in the world of TV, showbiz and music line up to Guest Announce and perform in the celebrated "End Of The Show Show", while the cheekiest pocket-sized duo in the business, Little Ant and Dec, return to make some more mischief.
The ultimate Saturday night feel good show is back on screens – let the surprises commence!
Tune in to your telly Saturday 25th February on ITV

You might also like…