The 2012 celebrities are here!
The I'm A Celebrity Get Me Out Of Here contestants have arrived in the land of Aus – and they're ready to bunk up Down Under for the next few weeks for their chance to win the I'm a Celebrity title!
As usual, the boys will be on hand to deliver all the big stories live and keep you up to date with the latest jungle japery every night on ITV1. The celebs will have to work extra hard to keep the public on their side and avoid being sent to the dreaded Bushtucker Trial. ITV1 have promised to make the jungle particularly unpleasant for our unwitting celebs this year - guaranteeing shocks, startles and surprises aplenty alongside more edge-of-your-seat-nail-biting challenges!
Competing to be top dog in the jungle this year are: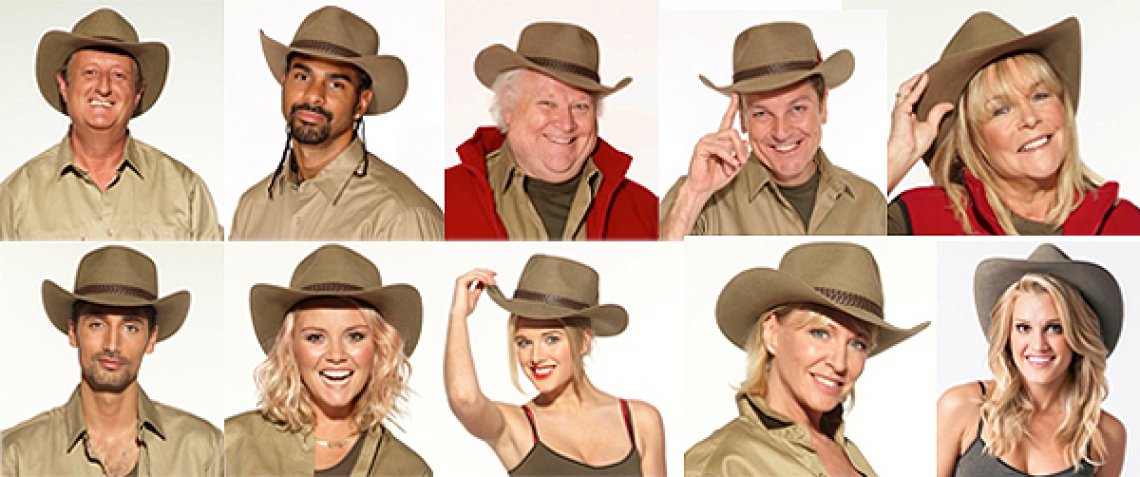 Former world heavy weight boxing champion David Haye, who lists his phobias as "losing" and his dream camper as Will Smith ("we could spar in the gym" he says!)
Actor Colin Baker, who lists "standing at the edge of a cliff" as his phobia and would like to camp with Derren Brown so "he can hypnotise me into thinking I am eating steak and chips rather than witchetty grubs!"
Entertainer Brian Conley, who will miss his family and good food the most and would love to camp with Christopher Biggins.
Darts champion Eric Bristow, who says he has no phobias and won't miss anything as long as he can smoke in the jungle.
Made In Chelsea's Hugo Taylor, who lists amongs his many phobias "small spaces, the underground and spiders" and would love to camp with Keith Richards for entertainment!
EastEnders star Charlie Brooks, who "doesn't like the idea of rats or insects crawling all over my body" and is missing her best friend's wedding to be in the jungle.
Coronation Street star Helen Flanagan, who lists "jumping out of a plane and spiders" as her phobia and will miss her boyfriend, Manchester City player Scott Sinclair, the most.
Actress Linda Robson, who "used to have a phobia of rats until she was hypnotised on This Morning six months ago" and is now afraid of "a trial involving a coffin" instead.
Conservative MP Nadine Dorries, who (deep breath) is missing "local elections, a by-election, whether President Obama will still be in office or not and the Tatler ball" to be in the jungle and would love to camp with Winston Churchill.
Pussy Cat Doll Ashley Roberts, who is missing Thanksgiving with her family to be in the jungle and will miss her dog the most while away.
You might also like…